【MUSEUM】Petit Guide to the Exhibition Room 1 from " The World of Kazuharu Hanada Dialogue with Nature"
Dear all, interested in Karuizawa New Art Museum
Let us introduce artworks from each exhibition space in the current exhibition The World of Kazuharu Hanada "Dialogue with Nature"!
Exhibition Space 1
Standing still on the waterside
The sea was the special motif for Hanada.
By tracing up his family tree, he is related to the Hanada family which was the boss of local fishermen and built "The Former Hanada Fishers Residence", flourished in herring fishing in the Meiji period and designated as an important cultural asset now. Hanada was proud of his root and thought that the bounty of sea nurtured it.
This exhibition space traces the scenery of the sea near Otaru where Hanada often visited and loved, and displays various works which were born there along with the documents based on these works.
Mother's Train
Hanada adapted the night scenery as the motif in his painting, which was seen from a train window when it was running along the shoreline around Hariusu in Otaru. As the title of this work describes plainly, he is said to be inspired by the old woman who got off the train with a few passengers on board and create this painting.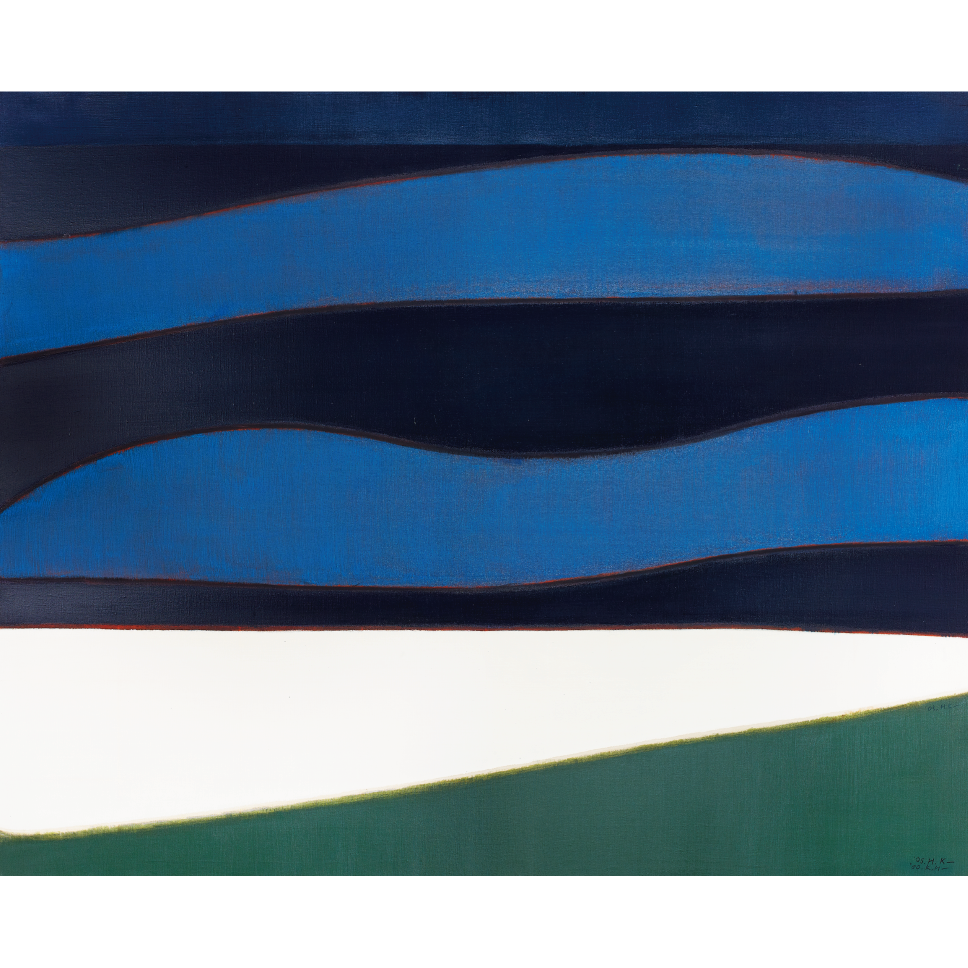 Kazuharu Hanada, Mother's Train, 2005, Oil on canvas, 130.3×162.1cm
Mother's Train About the description on the back of the work
On the back of the canvas with Mother's Train, several changes of dates and titles were made, which can directly be clues about making process of the artist. There are the date, December 22, 1999, and the original title, Winter. Below that title is Mother's train. Next dates are July 28 and August 30, 2003 and the title is Haha no Kisha meaning Mother's train, (at Hariusu). Then finally the date is April 22, 2005 and the title, Haha no Ressha meaning Mother's train became the present title. On the upper right of the canvas, some words like a poem are written by Hanada as follows,
"In this painting, the sea happened to become the sky, and the waves to the clouds, though, the snow remains as the snow. That's all."

Special Event
Savor the Taste of the World of Kazuharu Hanada!
Please take this opportunity to enjoy the dessert inspired by one of Hanada's works named Mother's Train(2005)for a limited time at the adjoining Restaurant-Cafe.
Unbaked cheese cake "Mother's Train" 660 yen (With tax) In lunch set meals 330 yen (With tax )
〇 Other Exhibition Spaces from the links below
Exhibition Space 2
Exhibition Space 3
Exhibition Space 4
Exhibition Space 5
Exhibition Space 6
〇The World of Kazuharu Hanada Exhibition Views taken by 360°Camera
From here
〇For further information about this exhibition
The World of Kazuharu Hanada "Dialogue with Nature"