Launch Announcement of the New Wave Gutai-Jin Conference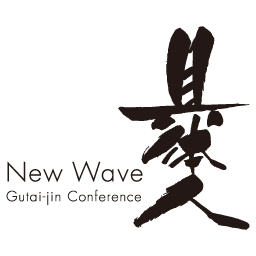 The Purpose of Founding
The individuals of the Gutai Art Collective, whom Jiro Yoshihara gathered together in 1954, were forced to breakup soon after Yoshihara's passing in 1972. However those artists, the families of those who passed, and various other supporters continue to live on as inheritors, the spirit of Gutai flourishing within them. Even today the lingering influence of this revolutionary group can be felt throughout the contemporary art world. The Gutai Art Collective communicated its message globally via magazines (the Gutai Journal) and a private museum (the Gutai Pinacotheca). They assertively arranged international exhibitions and planned the debut of Japanese artists in the global art world. This activity laid the cornerstone for the way in which the world values the Gutai group's cultural achievements today.
Our museum honors the success of these forebearers by laboring to discover and nurture the next generation of superior artists. This activity has in part led to the establishment of the New Wave Gutai-Jin Conference. 'Gutai-Jin' (literally Gutai-people) is a phrase that is meant to refer to the artists and the families of deceased artists, and also includes all people who support the original concept of Gutai. Today over 50 years have passed since the group's founding, and in our electronically integrated world it is necessary to reconsider any project within a network-based context. To that end the New Wave Gutai-Jin Conference will take advantage of advances in communication to build an international network. Representatives in nations around the world will recommend artists, organize international reviews of artists, and even curate international art exhibitions.
Through these objectives we hope to restore the past enthusiasm of Gutai, and to create an organization that will start a new wave in our era. 
Primary Functions
1. Research the Gutai Art Collective and arrange a symposium.
2. Publish new articles about Gutai, including the publication of an official bulletin.
3. Hold international exhibitions and competitions for general public.
4. Seek out emerging young artists and provide them community of artistic dialogue and exchange.
Founding members (listed in Japanese alphabetical order, without honorifics)
Junji Ito (specially appointed professor at Tokyo Geijutsu Daigaku Public Collaboration Center)
Yoshiaki Inui (honorary professor at Kyoto University)
Chiyu Uemae (artist)
Yoshio Kato (representative of Kato Yoshio Gallery Network Studio)
Shigenobu Kimura (honorary professor at Osaka University)
Yukio Shiraishi (chairman of Whitestone Art Foundation)
Koei Shiraishi (director of Karuizawa New Art Museum)
Nobuyuki Senzoku (director of Hiroshima Prefectural Museum of Art)
Toru Takahashi (honorary professor at Osaka University of Arts)
Hideyoshi Nakajima (sales manager of Showa System Engineering
Corporation)
Tsuyoshi Maekawa (artist)
Yutaka Mino (director of Hyogo Prefectural Museum of Art)
Shuji Mukai (artist)
Kunio Motoe (professor of Tama Art University)
The First General Assembly's schedule was as follows:
Date/Time: April 18th Saturday, 2015 / A.M. 11:30 – P.M. 2:00
Location: The Marcus Square Kobe Sixth Floor Ballroom (Inside the Hotel Crown Palais, Kobe, Harborland)
Participants: 32
Agenda:
– Mission: Objectives for the New Wave Gutai-Jin Conference set out by the Executive Office
– Speech from founding members
・ "Memory with Jiro Yoshihara" given by Mr. Yoshiaki Inui
・ "International Aspects of GUTAI" given by Mr. Yutaka Mino
・ "Gutai from an Artist's Point of View " given by Mr. Shuji Mukai
・ "Prospects for International Interaction Based on the Internet" by Mr. Hideyoshi Nakajima
– Luncheon, Social Gathering (* held at a different location)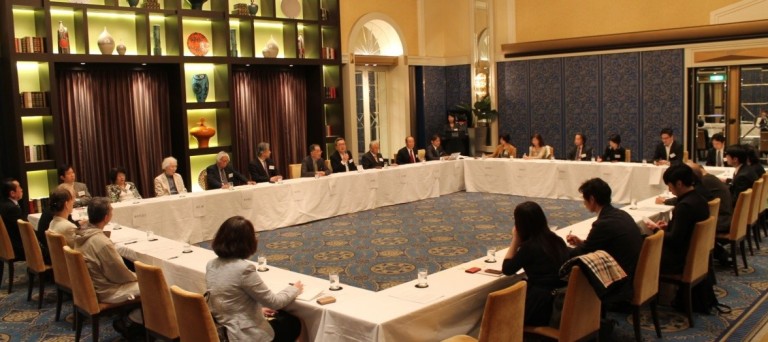 (Appearance of the first general assembly)
The 32 participants included Gutai artists, surviving family members of Gutai, researchers in the field, and representatives from publication firms such as newspapers and art magazines.


(Founders lined up in the front of the hall. From the right: Mr. Yoshiaki Inui, Mr. Shuji Mukai, Mr. Yutaka Mino, Mr. Shigenobu Kimura, Mr. Tsuyoshi Mukai)
The opening greeting was given by Mr. Kunio Motoe from Tama Art University.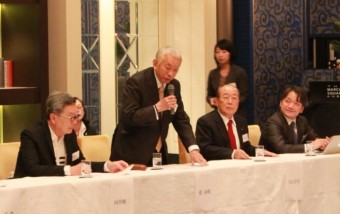 (From right: Mr. Koei Shiraishi, Mr. Yukio Shiraishi, Mr. Yoshiaki Inui, Mr. Shuji Mukai)
Mr. Inui, honorary professor at Kyoto University giving a speech about his memories with Jiro Yoshihara.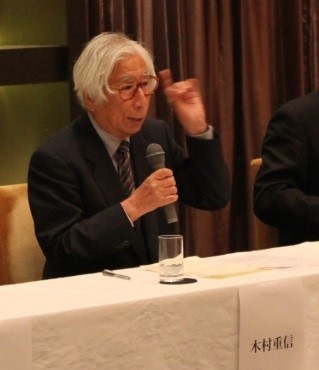 Mr. Kimura of Osaka University answering a question on how future action policy should be managed.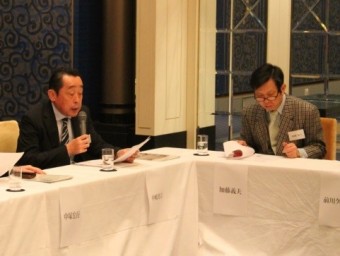 (From the right: Mr. Yoshio Kato, Mr. Hideyoshi Nakajima)
Mr. Nakajima remarking on the importance of communication based on an international network.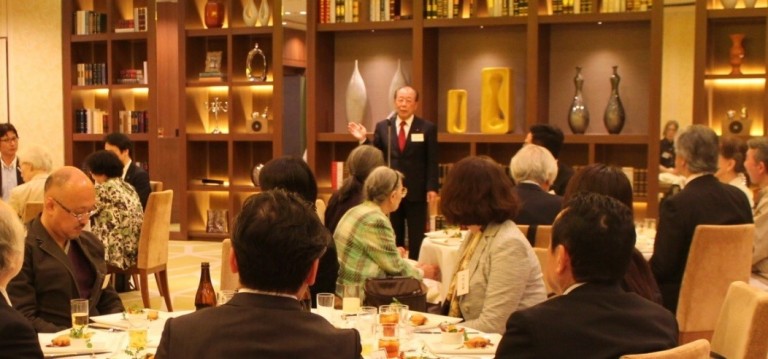 The luncheon greeting given by Mr. Yukio Shiraishi
The Secrelariat of New Wave Gutai-jin Conference
〒389-0102 Nagano-ken, Kitasaku-gun,
Karuizawa-machi 1151-5 Karuizawa New Art Museum
Executive Office Direct Telephone:0276-42-1116 – Kazuo Ohi ohi@knam.jp
Representative Telephone:0276-46-8691- Kazufumi Suzuki