MIZÙ : Tetsuo Mizù Solo Exhibition
2022.03.18 - 2022.04.24
10:00 - 17:00
KARUIZAWA NEW ART MUSEUM 1F Gallery

Information
Period

2022.03.18 - 2022.04.24

Venue

KARUIZAWA NEW ART MUSEUM 1F Gallery

Open Hours

10:00 - 17:00



Closed

Closed on Monday *If a Monday falls on a national holiday the following day is a holiday

Ticket

Free entrance

Contact Information

Karuizawa New Art Museum Gallery
About the Exhibition
Whitestone Gallery Karuizawa is pleased to present a solo exhibition by Tetsuo Mizù, who celebrated his 50th anniversary as a painter last year.
Mizù has established his own unique world by incorporating "international maritime signal flags," which are indispensable for communication between ships, into his paintings. He was in the limelight in Europe during the 1980s and 1990s, with numerous exhibitions held in Italy, France, Spain, and other countries.

The "Flag" series combines a taste of abstract paintings with a touch of poetic sensibility. Inspiration for his outer layers, curves, and colors, which is a form of consequence in abstraction, comes from the flags fluttering in the wind on board as well as the buntings under the bright sun in Italian open squares. As for his lyricism, the artist may have been influenced by the pathos of Modigliani whom he looked up to as his mentor and Yumeji Takehisa. In addition, his matte texture, which reminds us of the design of Japanese cultural refinement such as ukiyoe and hanafuda (Japanese playing cards), cannot fail to attract the viewers' eyes.

This exhibition will feature not only his representative "Flag" series from the 1990s and 2000s also include "Voice," the significant work in his early period that gives us a glimpse of the hitherto process of abstraction, "CORONA, ViRUS," a painting literally as a quick response to the Corona crisis in 2020, and the latest work from 2021.
We cordially invite you to come visit the vibrant world of Tetsuo Mizù.

---
Profile
© Tetsuo Mizu
---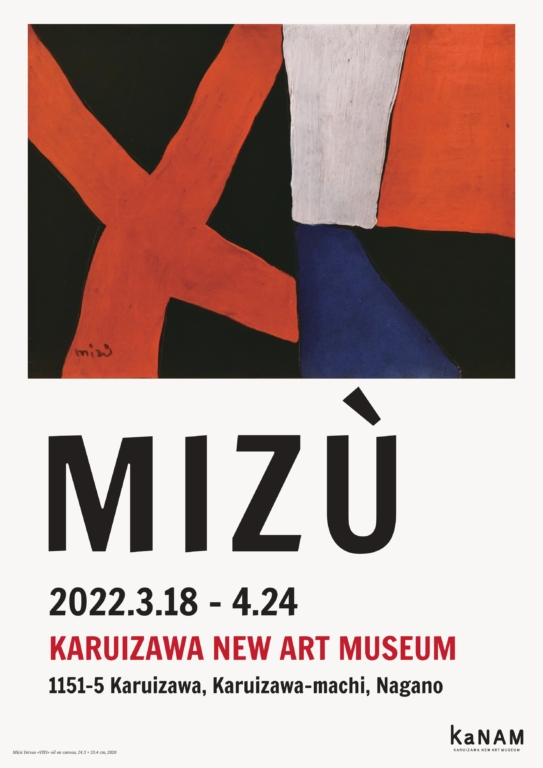 Exhibition Poster Now on sale at the exhibition venue and
online store
---
Images
Tetsuo Mizù『VHS』 24.3×33.4 cm / oil on canvas / 2020
Tetsuo Mizù『NO TITLE』100.0×100.0 cm / oil on canvas / 1995
Tetsuo Mizù 『JAPAN』102.0×102.0 cm / oil on canvas / 2021
Tetsuo Mizù『P.F』40.0×59.5 cm / oil on canvas / 1994